About Us
Compositions® is a New York-based fashion company that specializes in women's sportswear and fine silk knits. Our brand was founded on the belief that women of all sizes and ages feel beautiful and sophisticated in luxurious clothes that stand the test of time. We create versatile designs made of luxe yarns and fabrics that are carefully manufactured to the highest standards.
Founded in the early 1990's, Compositions® opened its doors as a fine-quality silk house with a large selection of fine silk knitwear. Customers came to know and love our signature styles, intricate designs and undeniable quality.
With over 20 years in the business and counting, we are thankful to our loyal customer base and are happy to continue offering Compositions® creations to new and returning shoppers all across the U.S. and Europe.
Our product lines regularly offer perennial customers favorites of high-quality basics with fresh colors and flattering knits and cuts. Only at Compositions® can you find our signature silk knit sweaters, shells, matching cardigans, jackets, one-of-a-kind full needle knit pants, skirts and other elegant pieces and sets.
We recently refreshed and improved our site. We hope you enjoy shopping at Compositions.com!
The Process:
At Compositions®, our designers select yarns and fabrics that are comfortable, luxurious and beautiful.
Our team gives special treatment to fine yarns of 100% silk, silk cashmere, silk cotton blends, silk linen blends, gabardine silk, silk jerseys and yarn-dye fuji silk fabric.
Once selected, our yarns are knitted with exceptional workmanship to achieve good construction, beautiful draping and good hand feel.
The result of our thoughtful manufacturing process is high quality knitwear that looks good on women of all shapes, from sizes 4 to 18.
To illustrate a few of our refined knit fabrics, patterns, and colors, please see some of our swatches here: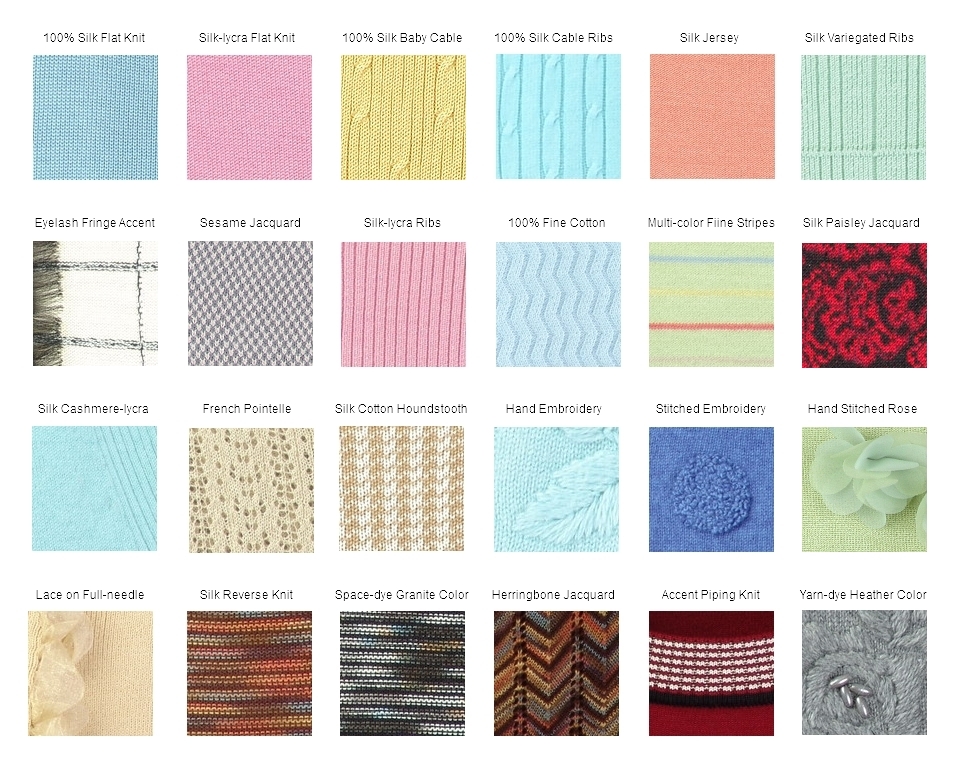 Customer Service:
For inquiries, please email us at compositionny@gmail.com or call us at 516-829-5200.